I've been this past week with a few projects, so I thought I would share them.
First, a dress for a friend's lil' girl:
Second, a diaper swap I signed up for on a message board I'm on: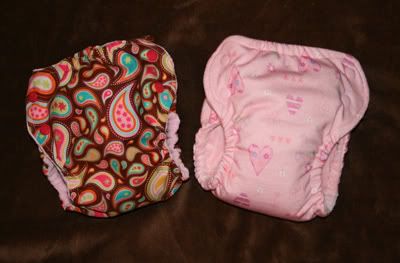 2 Fattycakes Medium pockets. Brown paisley is PUL outer, pink velour inner, with butterfly snaps! Pink one is knit outter, hidden PUL, and pink minkee inner--also butterfly snaps!
I also made a matching swing dress:
I also made another ice cream dress for another friend--but since it's exactly the same as the first--I won't post pics!
Now I just need to get crankin' on finishing up Kenna's birthday presents! I also ordered a
mermaid doll kit
from Dancing Rain Dolls that I would like to get started on!
This weekend, my goal is to organize my entry way, and the upstairs' closets though--so I'll have to put my sewing on hold for a couple days!